Essential Reform of White Collar Crime Law and Sentences in the Works
---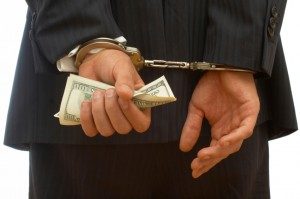 As initially reported by Forbes contributor, Walter Pavlo, the United States Sentencing Commission is working on making much-needed adjustments to laws concerning white collar crime. All of the changes have an impact on the Federal Sentencing Guidelines judges currently use as a guide. The white collar crime law change recommendations were finalized and delivered to Congress for their review process. If members of Congress approve the changes, the sentencing guidelines will apply to cases heard in court after the 1st of November 2015.
Economic Impact Weight
The original sentencing guidelines laws looked at the total value of the economic impact made by white collar criminal acts, including fraud, identity theft, and money laundering. Most of the loss table changes were updated to reflect the total amount of inflation since the laws' original inception. White collar crime examples that occur today tend to far exceed the given guidelines, leaving judges unsure about how to proceed during sentencing. Although the Department of Justice and groups against mandatory minimum sentencing opposed the changes, other governing officials felt the economic updates were completely necessary.
Victim Tally Considerations
On the other end of the spectrum, judges looked at the victim tallies to see how the crimes affected the community as a whole. Crimes that had an effect on a large number of individuals came with stiffer sentences than ones that bankrupted just a few key people. New sentencing guidelines allow judges to step back a bit and examine the actual impact on each victim to gauge the severity of the white collar crime examples. Judges will also weigh actual intent while determining the right sentencing range to apply for each crime.
Future Alteration Forecast
Individuals opposing this change urge court system officials to view long prison sentences for non-violent offenders in a new light. The opposing forces do not want the current state of long sentencing for drug charges and other forms of non-violent crime to act as a benchmark for white collar crime law changes. Instead, these individuals urge lawmakers to reconsider the state of the justice system all around to incite sentencing changes for all non-violent criminals. In particular, the way first time offenders are harshly sentenced is being scrutinized as an unnecessary measure with little to no positive impact.
Individuals in need of criminal defense in Los Angeles should not hesitate to contact a qualified legal representative. To speak to a criminal defense attorney, call us now at (310) 277-1707, or head over to our website atwww.YouAreInnocent.com.